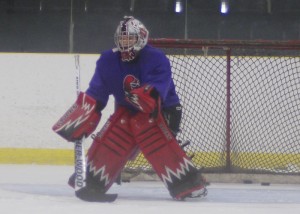 Now registering for ALL 2014 Summer Camps!
Welcome to Mind the Net Goaltending, Saskatchewan's PREMIER elite level goalie school. MTN offers an interesting and new concept for goaltenders who want to improve ALL aspects pertaining to goaltending, especially the mental training aspects.
MTN offers high-quality, in-depth instruction for goaltenders of all ages.
The Professional Excellence Program is designed to take the Major Junior, College/University and Pro goaltender to the level of consistency expected in the Pro game.
The Top Prospects Program  is designed for the established elite goaltender looking to climb even higher.
The Midget "AAA" Prep Program prepares goaltenders to make the jump to elite hockey.
The Atom/PeeWee, Bantam Development and MTN/SHA Skills of Gold Camps provide high-level instruction for young goaltenders throughout Saskatchewan.
The Adult Summer Goaltending Camp is the FIRST Adult goalie camp to be held in Saskatchewan.  This program is designed to help adult goaltenders to become more competitive and get more enjoyment out of the game!
MTN also offers private/semi-private instruction and adult instruction, as well.